TWENTY-FIRST CENTURY OCCUPATIONAL ADJUSTMENTS AND CONSIDERATIONS, EPISODE 4: Seating Chart for a Fall Dinner Party in a Pandemic
Presented at Metro Pictures in a special online viewing room through Dec 31, 2020
Sometimes, it seems like the entirety of the art business is anchored in exciting conversations. My first hint of this notion appeared at a meal celebrating a now-acclaimed artist friend's first post-MFA group show. Dinner parties with my lawyer colleagues were brilliant, if buttoned-up, but that evening, artists and their seemingly infinite supply of Big Ideas generated a kaleidoscopic new set of possibilities for me. Was it true that you (I?) could live a life in art?

***
A few years into writing about art and curating exhibitions, I was seated across from a person who would go on to become a dear mentor and friend at a dinner celebrating our mutual friend's inclusion in a particular confluence of German-based international art exhibitions. Having had so much fun discussing art at the intersection of American and European politics, the next day we drove to the opening of Skulptur Projekte Münster. This still counts as one of my favorite exhibition experiences/adventures in recent memory.

***
Now that epidemiological concerns preclude both a physical exhibition and the centerpiece event marking Gallery Kendra Jayne Patrick's first fall exhibition for one of the wildest art seasons on record, it feels important to use this opportunity to actively seek new means for fostering consequential art dialogue. Seating Chart for a Fall Dinner Party in a Pandemic, then, is an ode to the thrilling possibilities springing from dinner conversations I've experienced all throughout my life and work with art. It's an exhibition of pairs, each featuring one object by one artist in each gallery's respective orbit. In this configuration, the works are afforded an intimate, intricate dialogue, in much the same way as the artists themselves might be, were they afforded physical and temporal proximity.


- Kendra Jayne Patrick
Kenya (Robinson)
Monkey Mouse, 2020
Mickey Mouse plush, Mardi Gras beads
18 x 13 x 8 in || 46 x 33 x 20 cm
Cindy Sherman
Untitled, 1996
Chromogenic color print
57 7/8 x 39 1/4 inches (image)
147 x 99.7 cm
59 1/4 x 40 5/8 inches (frame)
150.5 x 103.2 cm


A ∩ B art: The mechanization of enigma; exploitation of the malleability of identity and privilege
A ∩ B dinner party conversation: Is "Karen" a slur or a joke?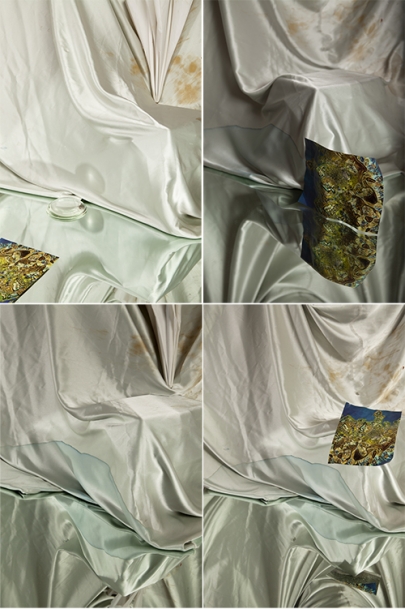 Arden Surdam
Autopeises I-IV, 2020
Archival Inkjet Print
Each: 27 x 72 inches || 69 x 183 centimeters
Bas Jan Ader
Studies for Westkapelle, Holland, 1971
set of two color vintage prints
3 1/2 x 3 1/2 inches (each image)
8.9 x 8.9 cm
8 3/8 x 8 1/8 inches (each frame)
21.3 x 20.6 cm










A ∩ B art: Positioning photography specifically in relationship to time
A ∩ B dinner party conversation: Joshua Citarella, Gregory Crewsdon, photoshop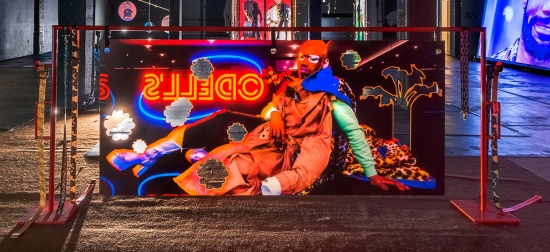 Wickerham & Lomax
Untitled (host), 2017
Double sided printed Plexiglas,
welded metal stand in red, customized nylon webbing, silver metal clips, wall shadows, floor lights
9ft x 1.5ft x 4ft
'Isaac Julien
Stars (Looking for Langston Vintage Series), 1989/2017
Kodak Premier print, Diasec mounted on aluminum
70 7/8 x 102 3/8 inches
180 x 260 cm
A ∩ B art: Mythmaking; black storytelling tropes and tradition
A ∩ B dinner party conversation: This latest era/iteration of diasporic Black Pride; West African mythology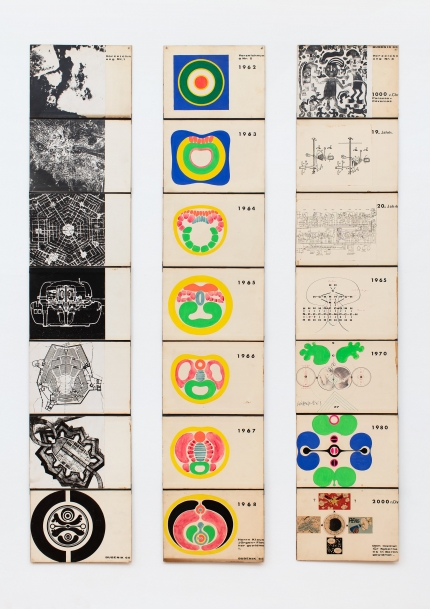 Gernot Bubenik
3 Leporellos, 1965
Oil and Xerox on cardboard with linen hinges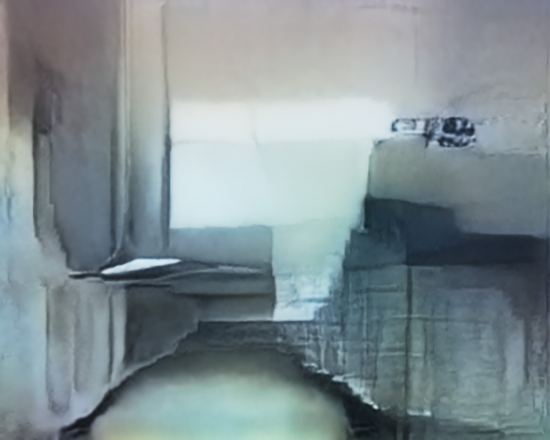 Trevor Paglen
A Prison Without Guards (Corpus: Eye-Machines)
Adversarially Evolved Hallucination, 2017
dye sublimation metal print
32 x 40 inches (image)
81.3 x 101.6 cm
32 3/4 x 40 3/4 inches (frame)
83.2 x 103.5 cm
A ∩ B art: The American Century; state-sanctioned science; aestheticization of technology
A ∩ B dinner party conversation: "Westworld;" Julian Assange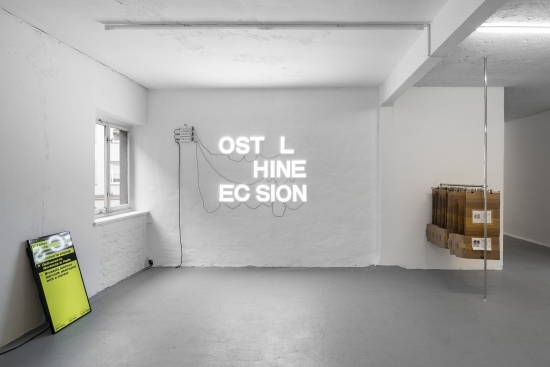 !Mediengruppe Bitnik
OSTL HINE ECSION (Postal Machine Decision Part 1)
14 of 21 LED illuminated letters, 14 of 21 cardboard boxes arrived at Werkleitz,Halle
Louise Lawler
Egg and Gun (distorted for the times, unhinged), 2008/2018
digital Fujiflex chromogenic print face mounted to Plexiglas on museum box
59 1/4 x 47 3/4 inches
150.5 x 121.3 cm
A ∩ B art: Making art with machines; Fluxus ideology in digitized art
A ∩ B dinner party conversation: Facial recognition software; 3D printing; Alan Kaprow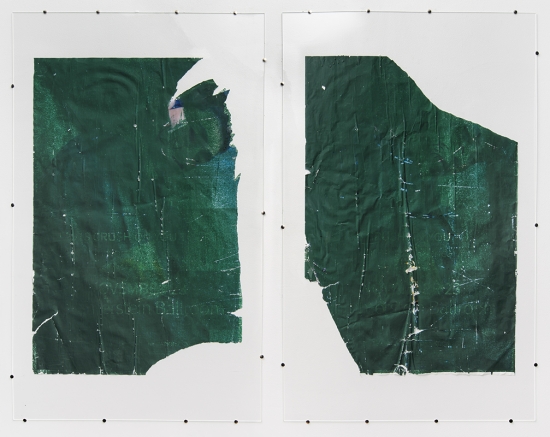 Jo Shane
Untitled Diptych, 2019
Found public wheatpaste poster advertisements (NYC circa 2019), plexiglass, truss-head screws
Each: 36 x 48 x ⅛ in || 91 x 122 x .32 cm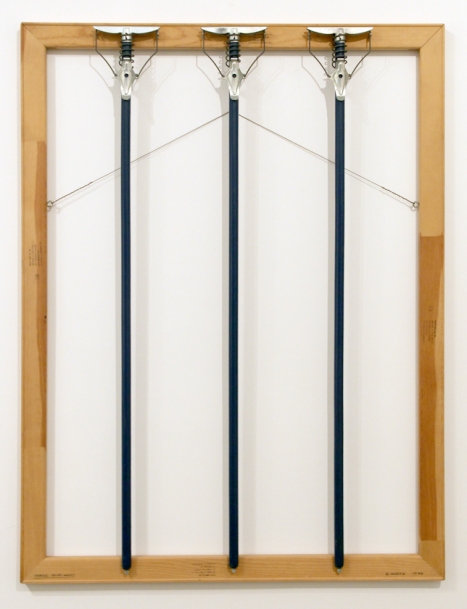 B. Wurtz
Three Blue Mops, 1986
Wooden stretcher bars, mop handles, wire
50 x 38 x 3 inches
127 x 96.5 x 7.6 cm
A ∩ B art: Effective post-minimal strategy; distinctive post-minimal philosophy
A ∩ B dinner party conversation: The new MoMA's new Donald Judd retrospective; gendered consumerism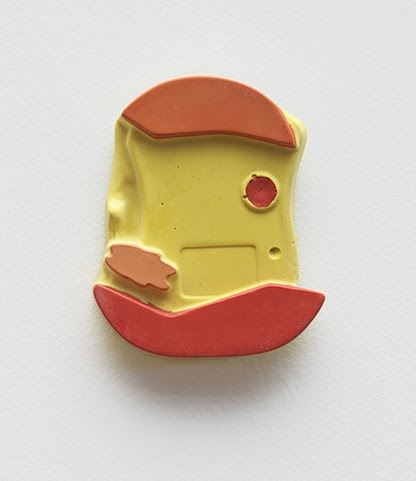 Jo Shane
Reified Toy Molds, 2004
Aqua resin molded to Artist's children's toys' packaging
Varying dimensions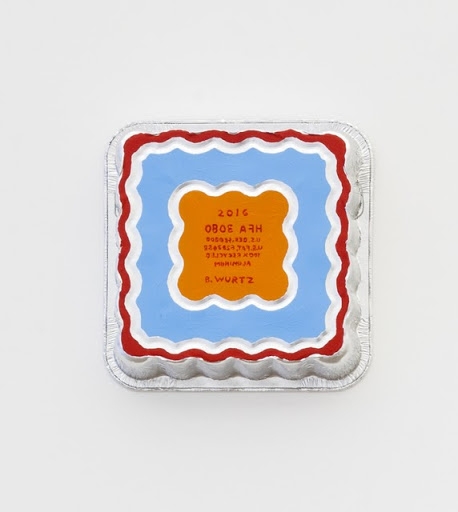 B. Wurtz
Pan Paintings, 1993-Present
Oil, aluminum sheet pans
Varying dimensions
A ∩ B art: post-minimal seriality; the Keepsake
A ∩ B dinner party conversation: No Wave bands at Artists Space in the late 70s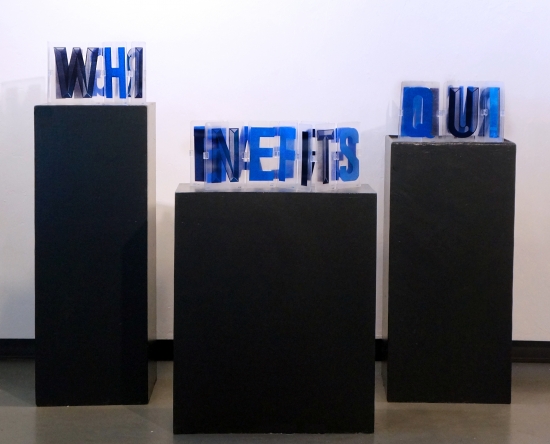 Kenya (Robinson)
NOWHIRNG, (2020)
GREATBENEFITS, (2020)
INQUIREWITHIN, (2020)
Found signage, pedestals
A ∩ B art: Americana; American consumer culture
A ∩ B dinner party conversation: The Dollar Store; plastic as the most plentiful material on earth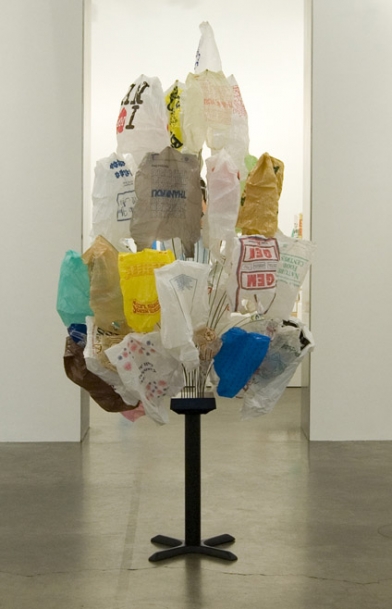 B. Wurtz
Bunch #2, 1995
Mixed media
99 x 48 x 48 inches
251.5 x 121.9 x 121.9 cm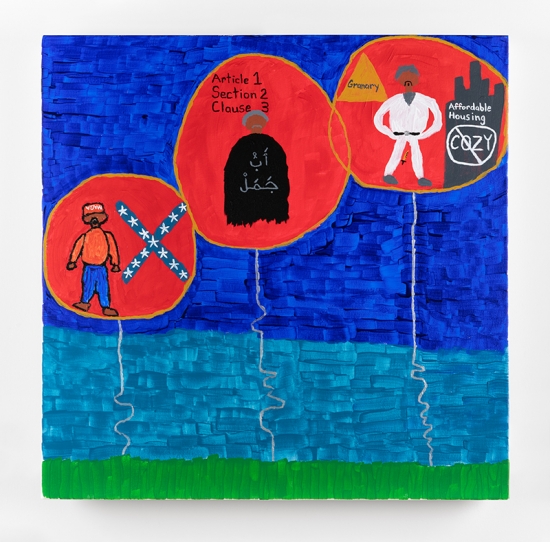 Halim Flowers
Jeff Coons, 2020
Oil sticks on Canvas
30x30 inches || 76x76 centimeters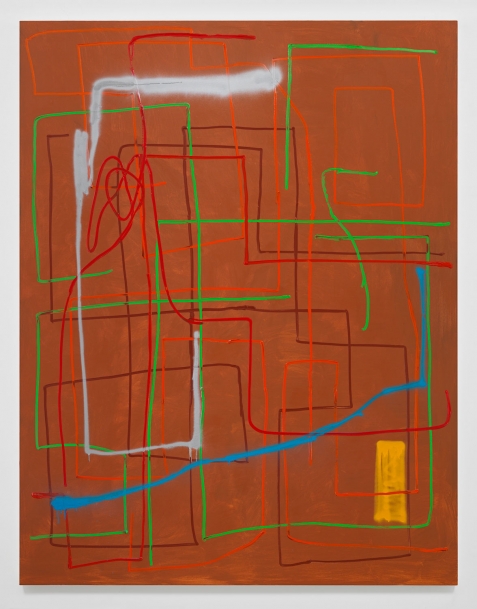 André Butzer
Untitled, 2019
acrylic on canvas
107 7/8 x 83 7/8 x inches
274 x 213 cm
A ∩ B art: color theory, skeptical painting
A ∩ B dinner party conversation: Netflix comedy specials, Michael Krebber



SHAWNÉ MICHAELAIN HOLLOWAY
define escalation or what is a ride and how much are they selling it for (?)mpeg(?), 2016
Digital video
Duration: 4'01"











Bas Jan Ader
I'm too sad to tell you,
1970-1971
16mm black and white film
duration: 12'02"
A ∩ B art: Finding empathy in irony; the tragicomic gesture
A ∩ B dinner party conversation: YouTube; Stoicism; Trigger Warnings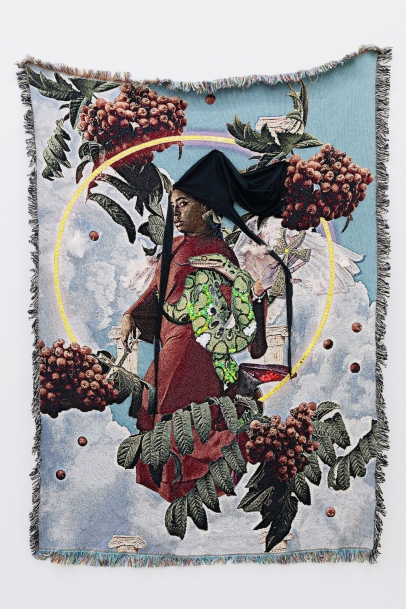 Qualeasha Wood
Test of Faith, 2020
Jacquard weave, satin Durag, sequins, glass beads
71 x 54 in || 180 x 138 cm
Paulina Olowska
Blue Forest, 2019
Oil, acrylic on canvas
87 x 87 in || 221 x 221 cm
A ∩ B art: The contemporary female gaze
A ∩ B dinner party conversation: Instagram and the female form; Instagram and the broad proliferation in plastic surgery mimicking of the Black female form; Lana Del Rey, Cardi B, and feminism



SHAWNÉ MICHAELAIN HOLLOWAY
_.DEVICEPLAY (trust and touch, care and reflect), March 31, 2018
Digital video
4 minutes 55 seconds














Cindy Sherman
Untitled, 1992
Chromogenic color print
68 x 45 inches (image)
172.7 x 114.3 cm
69 1/8 x 46 3/4 inches (frame)
175.6 x 118.7 cm
A ∩ B art: sex as performance; the interplay between public and private sexual identity
A ∩ B dinner party conversation: WAP-related fanfare, Andrea Frasier, "Untitled" 2003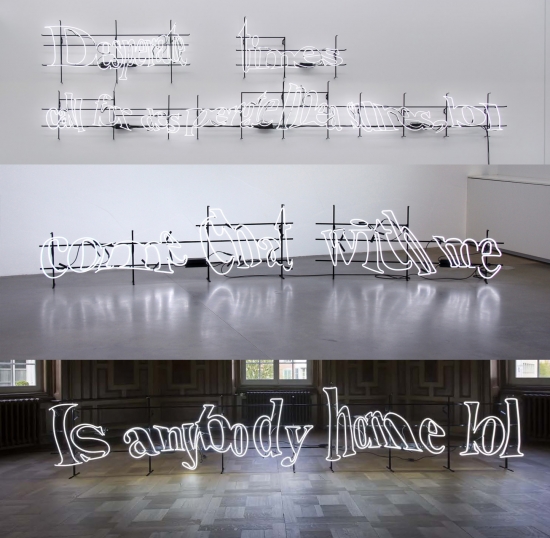 !Mediengruppe Bitnik
solve this captcha: Desperate times call for desperate measures, lol, 2017
neon sign, 8mm white glass tubes, transformers
mounted on black wall mount/floor stand grid; 802 x 9597 mm
Solve This Captcha: come chat with me, 2016
neon sign, 10mm white glass tubes, transformers, black wall mount/ floor
stand grid
625 x 3844 mm
Solve This Captcha: Is anybody home lol, 2016
neon sign, 8mm white glass tubes, transformers, black wall mount/floor
stand grid
797 x 4431 mm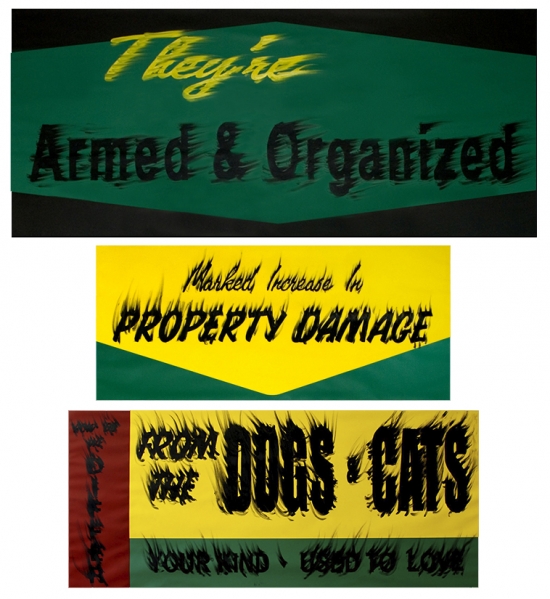 Gary Simmons
Armed and Organized, Property Damage, Dogs & Cats, 2008
Triptych; pigment and oil paint on gessoed paper each
40 x 90 1/4 inches (top framed)
101.6 x 229.2 cm
27 3/8 x 60 1/8 inches (middle framed)
69.5 x 152.7 cm
31 3/8 x 71 3/8 inches (bottom framed)
79.7 x 181.3 cm
A ∩ B art: Textual aesthetics
A ∩ B dinner party conversation: politicians on Twitter, "Cancel Culture;" digital language in an analog reality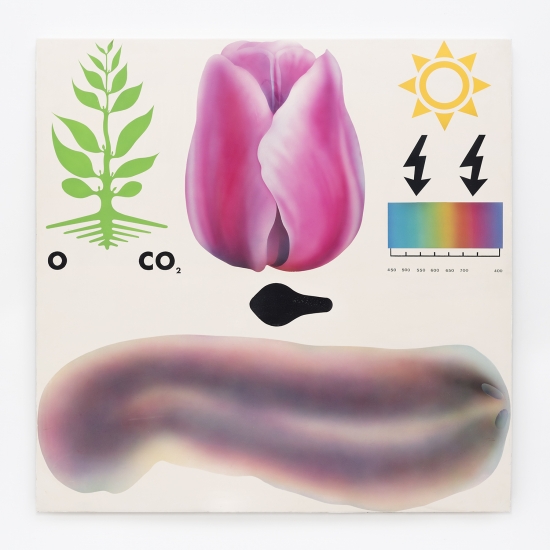 Gernot Bubenik
Naturgeschichte mit Tulpe und Plattwurm, 1965
Auto lacquer on aluminum
40 x 40 inches || 102 x 102 centimeters
Halim Flowers
Too Big to Fail, 2020
Oil on canvas
30x30 inches || 76x76 centimeters
A ∩ B art: Symbology; superstructures governing Western life
A ∩ B dinner party conversation: Comic Books, hieroglyphics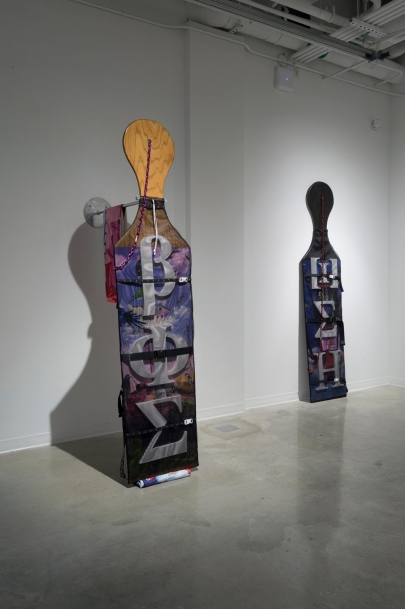 Wickerham & Lomax
Frat Paddles, 2015
Wood, uniquely printed towel, mesh, nylon wedding, metal chains, rock spray, stickers, du-rags with zippers, 6 mannequin heads covered in a bird seed and bar snack mixture, peanut butter sealed with Epoxy; each with a "Believe" necklace in metal
A ∩ B art: Artmaking in the liminal space between digital and analog life; abjection via the absurd
A ∩ B dinner party conversation: "The Swan;" TikTok

Camille Henrot
Maso Meet Maso, 2015
three dimensional nylon polyamide prints for case, button mount, and internal components, three dimensional resin print for receiver, paint, torx screws, phone cord, 4p4c jack, wooden table, operating system: Raspbian Wheezy, custom software written in Python and Bash, sound card, passive power over ethernet transformers, hall effect sensor, 3.7W amplifier, 3w Speaker, 1/8" jack, tactile momentary switch, 20 gua silicone insulated wire, solder, matrix keypad, perma-proto board
11 3/8 x 14 3/4 x 12 1/2 inches (phone)
28.9 x 37.5 x 31.8 cm
41 x 36 5/8 x 24 inches (table)
104.1 x 93 x 61 cm
Arden Surdam
Scrubber (Bioreactor III), 2020
Spirogyra, Acrylic, Flex Line Tubing, Tesler Hydroponic LEDs, Air Pump
6 x 14 x 16 inches || 15 x 36 x 41 centimeters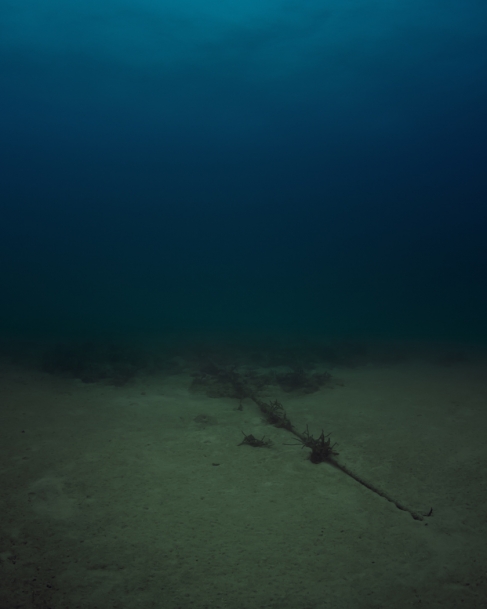 Trevor Paglen
Bahamas Internet Cable System (BICS-1)
NSA/GCHQ-Tapped Undersea Cable
Atlantic Ocean, 2015
c-print
60 x 48 inches (image dimensions)
152.4 x 121.9 centimeters
A ∩ B art: Nature in contemporary art; 21st century capitalism and nature
A ∩ B dinner party conversation: NASA sends algae to space
A very special thank you to Ryan Muller whose dedication, insight, and sense of humor made this exhibition possible. - KJP