NADA Presents "FAIR" || Week 3: Art Comes True w/ Mediengruppe Bitnik (2012)

Wherein hacking technological, cultural, and legal systems illuminates gray areas and new questions.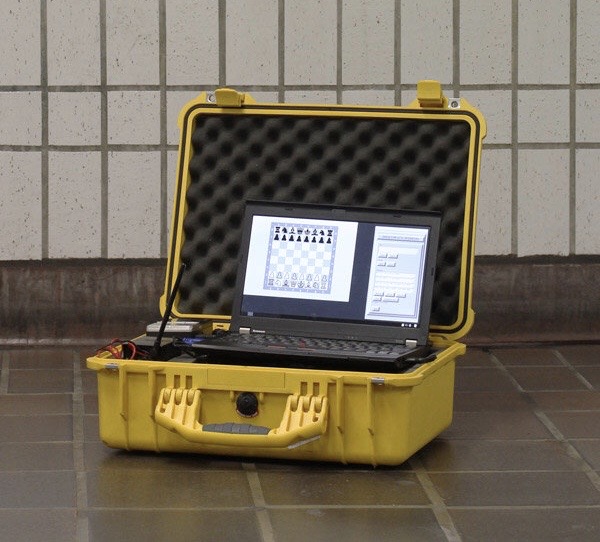 !Mediengruppe Bitnik
Surveillance Chess, 2012
One-channel video installation with performance suitcase,
7 minute runtime; edition of 3/5 (+1 AP)
!Mediengruppe Bitnik
Surveillance Chess
, 2012
Still
7 minute runtime
Edition of 3/5 (+1 AP)




Surveillance Chess is an art performance for a single recipient: the CCTV operator in his control room. On the eve of the 2012 Olympics in London, Swiss artist duo !Mediengruppe Bitnik assumed control of a random tube station's CCTV surveillance system.

Using an interfacing transmitter they replace real-time surveillance images on the CCTV operator's monitor with a real-time digital Chess board. Simultaneously, a voice blares from the station loudspeakers saying, "I control your surveillance camera now. I am the one with the yellow suitcase. How about a game of chess?," "You are white. I am black. Call me or text me to make your move. This is my number: 07582460851.


The security staff's surveillance monitor became a game console and the invitation to play chess makes it clear that the unfriendly takeover is intended to be friendly. The one-directional surveillance system suddenly becomes a communication channel, and the game establishes an equality between observer and observed.

!Mediengruppe Bitnik are artists Carmen Weisskopf and Domagoj Smoljo, a duo working on, and with, the Internet. Works bleed between digital and physical spaces, intentionally applying loss-of-control elements in order to challenge established social structures and mechanisms. In the past they have been known to bug an opera house to broadcast its performances to the public, send a parcel containing a camera to Julian Assange at the Ecuadorian embassy in London, and physically glitch a building.In 2014, they sent a bot called Random Darknet Shopper on a three-month shopping spree and had sent directly to the gallery space fraudulent utility bills, passports, Ecstasy, and the like. !Mediengruppe Bitnik's works formulate fundamental questions concerning contemporary issues surrounding our collective relationship to the digital.

Their works are shown at internationally renowned institutions like the Kunsthaus Zurich, Zurich, CH; Nam June Paik Art Center, Yongin, KR, House of Electronic Arts Basel, Basel, CH; Fondazione Prada Milano, Milan, IT; Centre Culturel Suisse Paris, Paris, FR; Beijing Contemporary Art Biennial, The Pushkin Museum of Fine Arts Moscow, Moscow, RU; Kunst Halle St. Gallen, St. Gallen, CH; MAAT - Museum of Art, Architecture and Technology, Lisbon, PT; Eigen + Art Lab, Berlin, DE; Palais de Tokyo, Paris, FR. They've won many significant art awards including the Swiss Art Award, PAX Art Award, Prix de la Société des Arts Genève, Migros New Media Jubilee Award, Golden Cube Dokfest Kassel, and Honorary Mention Prix Ars Electronica.