QUALEASHA WOOD
Manic Pixie, Magical Negro

10 November - 16 December 2023



System Maintenance(2023)
Woven Jacquard, Glass Beads
56 x 82 in
-
Dirt Off Your Shoulder - Jay Z (2023)
Woven Jacquard, Glass Beads
56 x 80 in


Qualeasha Wood's latest investigations into digital Black womanhood lead her to the relationship between artificial intelligence and perceptions of the black femme self. AI-engineered face and body filters encoded into Instagram, Snapchat, TikTok, et al are far more intensely transformative than their predecessors. Lead by a myth of neutrality - a myth the tech bros cum overlords tell themselves over and over about the character of the systems they develop - the digital tools that alter bodies on social media surreptitiously and instantaneously impose Eurocentric beauty ideals upon us in overbearing ways.


For women of color, long harried by the pressure to meet those standards, Wood proposes this leading to a new kind of dysmorphia. One wherein Eurocentric beauty standards don't simply haunt one from the magazine cover or the movie theater or even the trashy celebrity TikTok account. Instead, these standards sit directly on your visage, showing you exactly how green eyes, a dainty nose, a higher cheek as applied to the specifics of your face make ideal beauty *just* within reach. These digital interventions symbolize a complex interaction of technology, identity, and sexual expectations.


She posits that the allure of these filters isn't merely about beautification, but about finding belonging in a society that regards Black femme culture as a commodity. These instant image alterations can translate to feelings of inadequacy, triggering both depersonalization (a disconnection from one's own identity) and body dysmorphia (a distorted view of one's own appearance). Exacerbated by the racial biases of AI filters, these conditions carry deep psychological weight. Wood is thinking heavily about Afro-pessimism and the reduction of self to a casualty of white supremacy.


The broader effects of these systems are also prominent. Among women Qualeasha's generation and younger, plastic surgery is out in the open, run of the mill, whereas women older than her whisper about it, hoping any work they've had done goes unnoticed. "Snapchat dysmorphia" is a term coined by plastic surgeons who have within the last few years noticed an uptick of patients who, instead of bringing in photos of their favorite celebrity whom they want to resemble, now present AI-filtered and AI-edited versions of themselves as aspirational imperatives.




Asl? (2023)
Tufted Wool and Acrylic
31.25 x 28 in



(the) Big Comfy Couch (2023)
Tufted Wool and Acrylic
63 x 59.5 in



1312 (cop car piece)(2023)
Tufted Wool and Acrylic
63 x 60.5 in



Got My Eye On You (2023)
Tufted Wool and Acrylic
31.25 x 28 in



Swag Surfin (2023)
Woven Jacquard, Glass Beads
84 x 56 in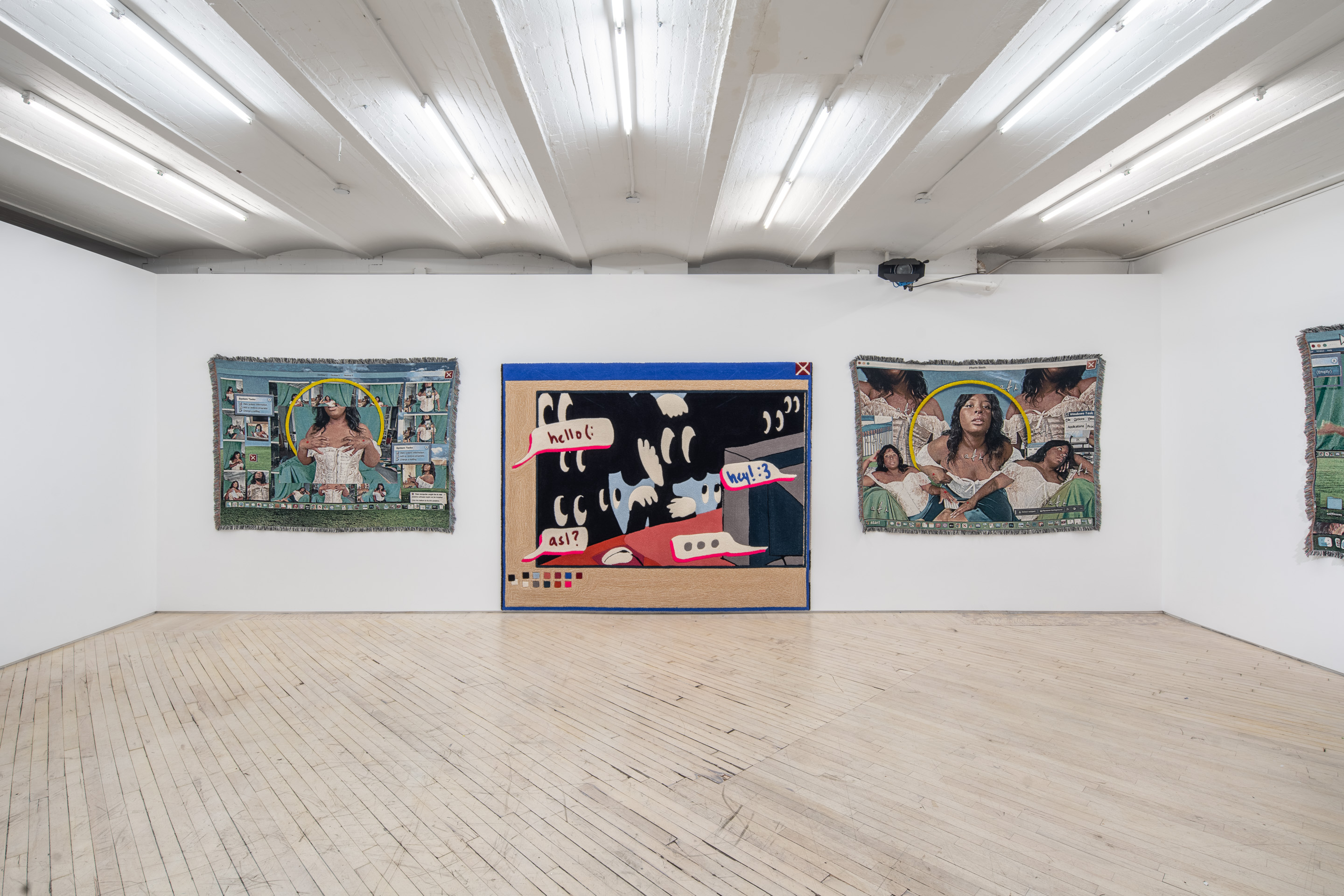 ~Circumambient~ alt. Asunder (2023)
Woven Jacquard, Glass Beads
80 x 56 in

To Catch a Predator (2023)
Tufted Wool and Acrylic
104 x 82.5 in

Screensaver (2023)
Woven Jacquard, Glass Beads
82 x 56 in



Peep Show (2023)
Woven Jacquard, Glass Beads
56 x 80 in



Keyboard Warrior(The People´s Champ)(2023)
Woven Jacquard, Glass Beads
60 x 160 in