FALL 2021 NEWSLETTER
---
News
Kendra Jayne Patrick
is thrilled to announce our first showing at
Art Basel Miami Beach
with a suite of new textile works by gallery artist
Qualeasha Wood
. This will mark the first occasion of her tapestry and tufted works exhibited together. Private Days are November 30th and December 1st (invitation only); Public Days are December 2nd–4th. See our presentation in the
NOVA section at booth N8
; preview soon to follow.
Qualeasha Wood
has been awarded the
Studio Museum of Harlem Residency 2021-2022
, alongside fellow newcomers Jacob Mason-Macklin and Cameron Granger. Each year, the prestigious residency grants a select group of young artists time, space, and resources to engage the experimental aspects of their practices with the full support of the venerable institution behind them. The program culminates in the fall of 2022 with a group show of the residency works on exhibition at
MoMA PS1
.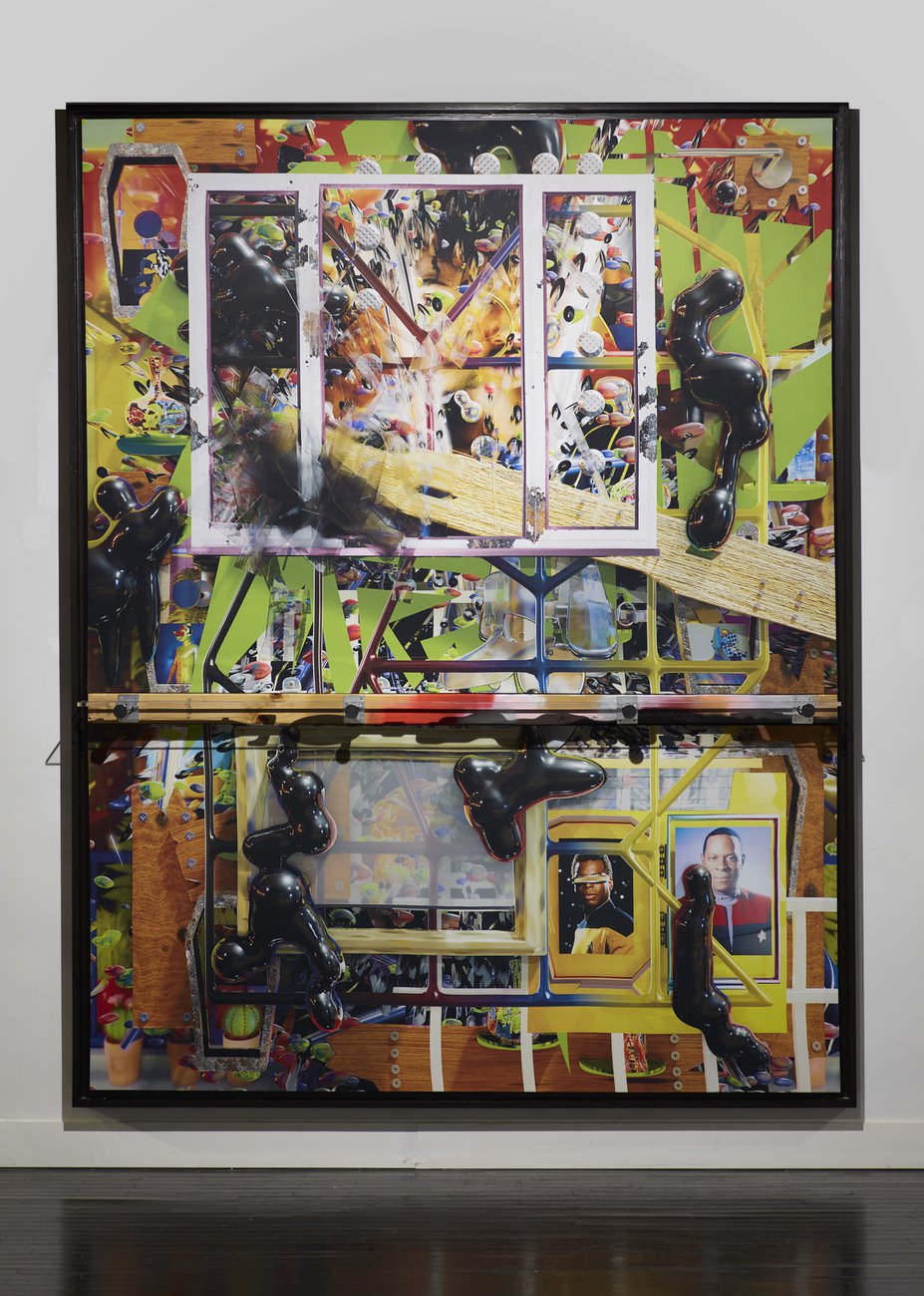 Wickerham & Lomax
Romance as Intrusion, 2020
Dye sublimation on canvas, wood, furniture feet, PNG printed on Plexiglass, wood stained frame
112 1/8 x 87 5/8 x 10 7/8 inches
285 x 223 x 28 centimeters
Wickerham & Lomax's "Romance as Intrusion," (2020), has recently been acquired by the Baltimore Museum of Art from their 2020 solo show 'Domestic QT & The Spatial Anomalies' at von ammon co. The duo will present a solo exhibition at Kendra Jayne Patrick this coming spring.
---
On Exhibition

Kenya (Robinson)
Patriot Games, No. 11022021, 2021
Dual-projected digital video on embroidered nylon and wood, hinges
00:03:40 runtime
Kenya (Robinson)
is joined by Pamela Council and Yvette Mayorga for an exhibition called
Liberatory Adornment
at the
Flaten Art Museum
, (St. Olaf, MN) curated by Dr. Jillian Hernandez. The exhibition brings together three artists whose distinctive material employments of Camp and care generate fresh ways of seeing "nation, sexuality, consumer desire, and violence as they manifest in the context of U.S. racial capitalism."
Take a look
here
for a special screening of '
BLACK of Entitlement
,' (2021), a new work debuting in the exhibition, followed by a lively roundtable discussion with (Robinson).
Liberatory Adornment
is on view now through
January 23, 2022
.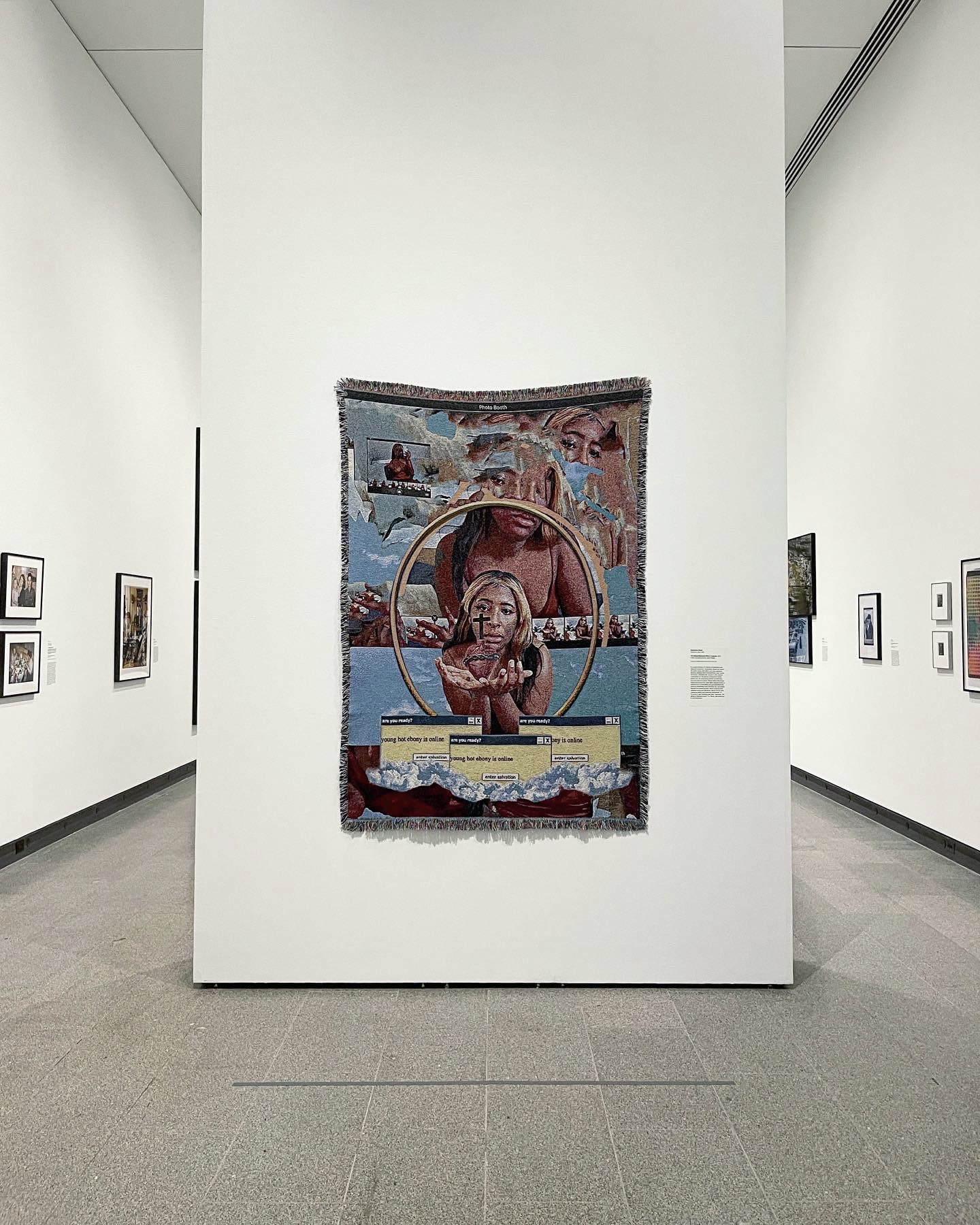 Qualeasha Wood
The [Black] Madonna Whore Complex, 2021
Cotton Jacquard weave, glass beads
71 x 54 inches
180.3 x 137.2 x 0.4 centimeters
Open to the Public - Qualeasha Wood
is the youngest artist in
Alter Egos | Projected Selves
at the
Metropolitan Museum of Art
, an exhibition exploring how artists utilize the "aliases, avatars, and alter egos abound in today's media, from pseudonyms and selfies on social platforms to packaged personae in pop culture," through portraiture, photography, and lens based media.
The exhibition features
The [Black] Madonna Whore Complex
(2021), the artwork on the cover of
Art in America's New Talent Issue
curated by Antwaun Sargent this past May. The exhibition includes works by Mike Kelley, Cindy Sherman, Gilbert and George, and other artists who've significantly contributed to this mode of making over the past forty years.
---
November
- Alicia Eler reviewed
Kenya (Robinson)'s
three-person exhibition,
Liberatory Adornment,
for the
Minneapolis Star Tribune
in print and online this past weekend. Eler highlighted (Robinson)'s use of gold, noting that in her work "it takes on many meanings, including cultural adornment and its use in hair, metaphysical significance around space travel, and socioeconomics."
October - Wickerham & Lomax's
Frieze London 2021 installation,
Culture's Panic Room
reviewed by
The Face
, highlighted the duo's focus on "cultural practices and productions, using digital imagery, sculpture, CGI video and the internet – proper techy stuff."
August
- For
Conceptual Fine Arts
, Piero Bisello profiled
Estrid Lutz
, delving into her punk approach to her practice, the "metaverse", environmentalism, and artistic extremism.
August - Qualeasha Wood
is interviewed by Susannah Elisabeth Fulcher of the
Provincetown Independent
about her show at Gaa Gallery, and her practice "as an act of defiance against Black stereotypes."
July
- Jasmin Hernandez interviewed
KJP
for
Gallery Gurlz
in which they discuss the importance of digital aesthetics in Black contemporary art, artist advocacy, a post-pandemic gallery landscape, and finding respite in our collective chaos.
---
Kendra Jayne Patrick
Season 4
Throughout 2022, gallery exhibitions will happen on an evolving continuum between Basel, Switzerland and New York, New York.
Estrid Lutz
&
Wickerham & Lomax
will each present solo shows during this exciting season. Get to know more about their practices below.
Estrid Lutz
b. France
Lives and works in Puerto Escondido, Mexico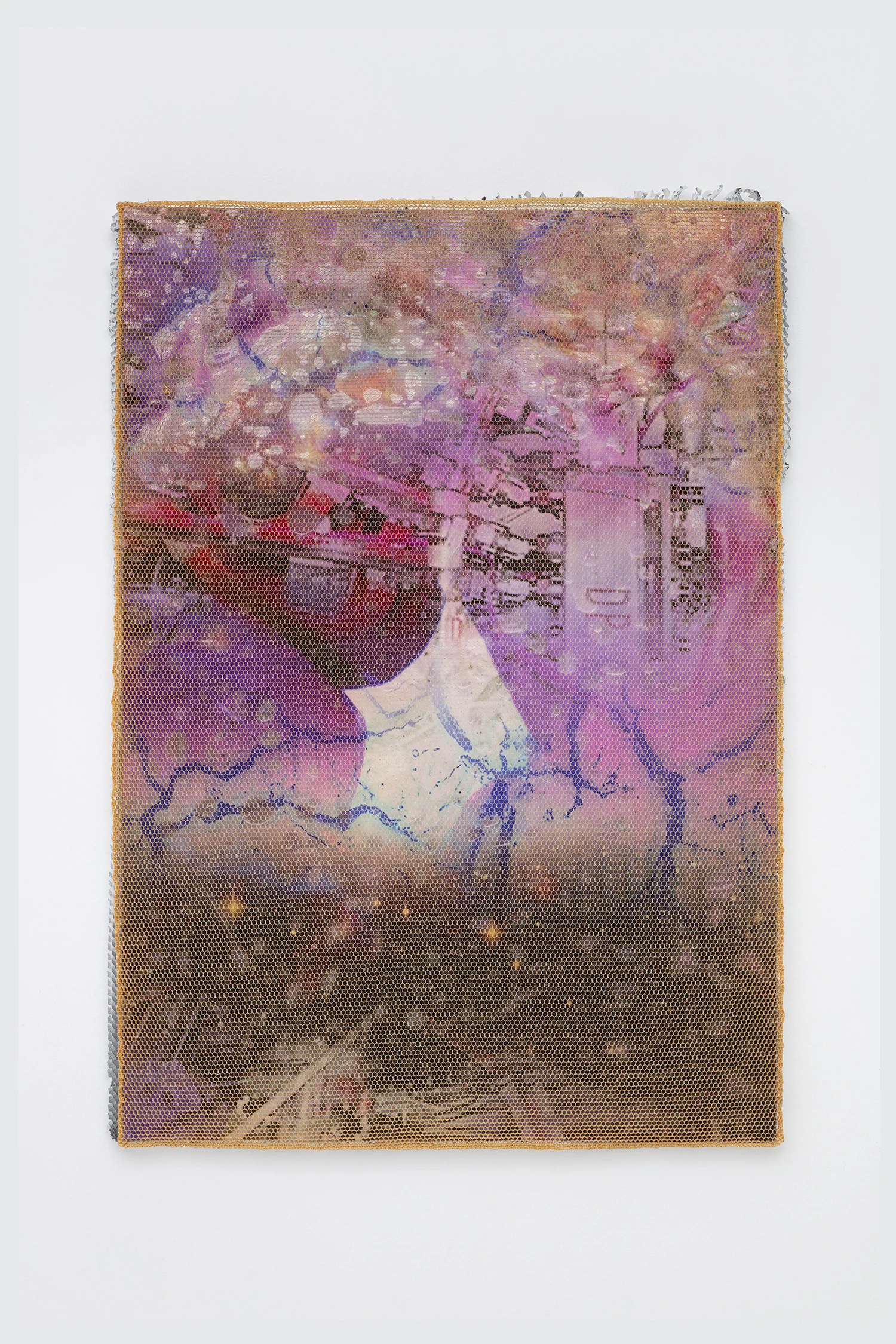 Estrid Lutz
- Bulletproof mesh y Kisses again in the tokamak stars dusts -, 2021
Aluminium spacecraft panel, Inkjet, kevlar honeycomb
39⅜ x 29½ x 1⅛ inches
100 x 75 x 3 centimeters


Countering the fallacious dichotomies of "natural and artificial" or "real and digital," Estrid Lutz uses materials like Kevlar and industrial aluminum honeycomb to investigate the ever-evolving relationships between humanity, nature, and technology. Featuring lively, abstracted pictorial scenes made from oil paint and print ink, the works demonstrate fewer boundaries between these three phenomena than we might regularly perceive.

Lutz's work as been shown at Colnaghi Gallery, London curated by Bjorn Stern (2020); MOCO, Montpellier curated by Nicolas Bourriaud (2019); Galeria Curro, Guadalajara curated by Dorothée Dupuis (2019); Tranen Copenhagen curated by Toke Lykkeberg (2019); Jelato Love, Mallorca (2018); Crash Test - La révolution moléculaire, MOCO, Montpellier curated by Nicolas Bourriaud (2018); Kunstverein Arnsberg (both 2018); Future Gallery, Berlin (2017); Rowing Projects, London (2016) and MAMO, Cité Radieuse Le Corbusier, Marseilles (2015).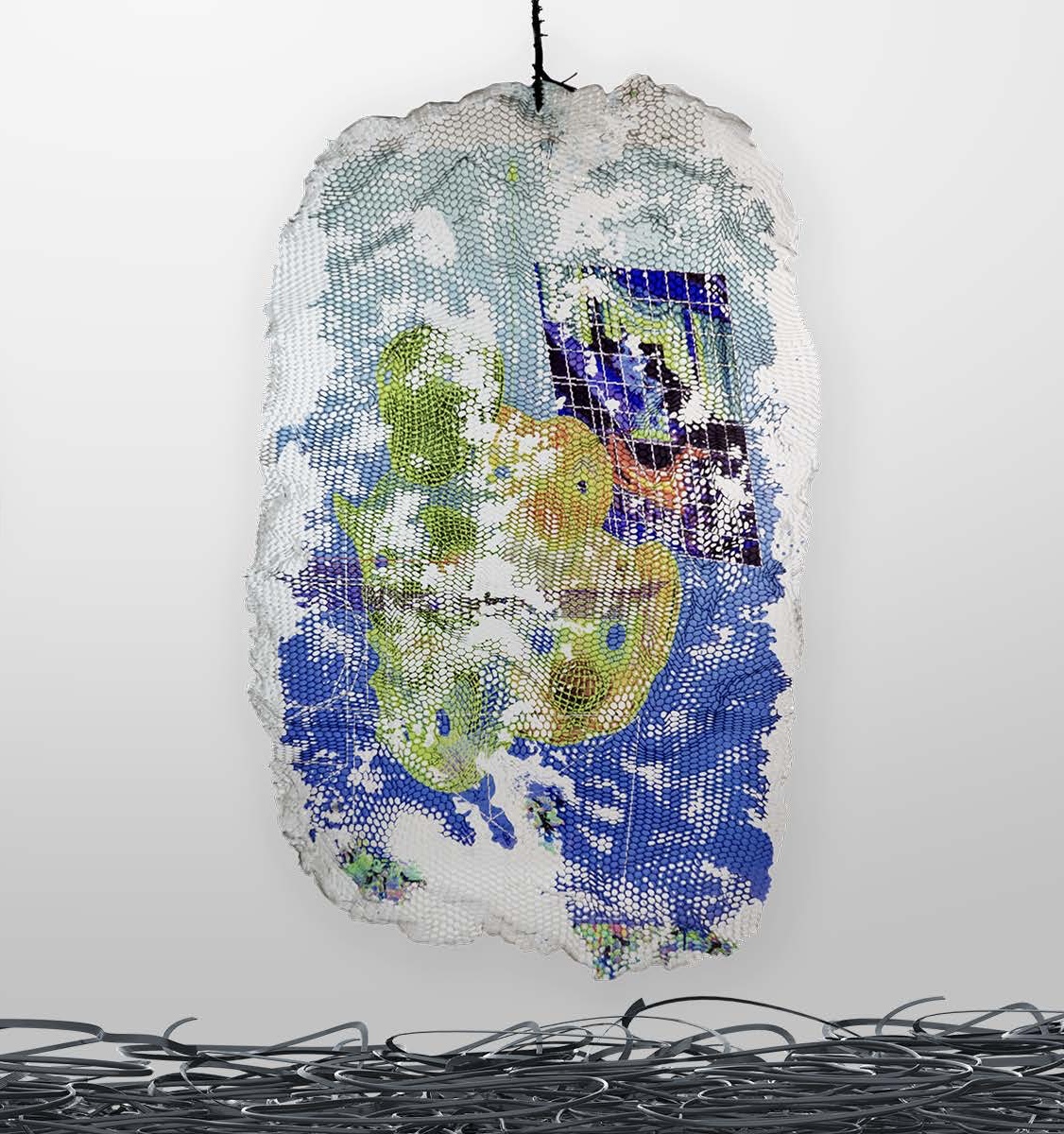 Estrid Lutz
WEAVERS MESH GENERATOR, 2021
Aluminium Space honeycomb, resin, ink, fiberglass
83 x 51 x 2 inches
210 x 130 x 5 centimeters

Wickerham & Lomax
b. Abbeyville, South Carolina and Columbus, Ohio
Live and work in Baltimore, Maryland



Wickerham & Lomax
Nomadic Adam, 2021
UV print on mirror
93 x 46 x 3 inches
236.2 x 116.8 x 7.6 cm.

Installation view, Culture's Panic Room
October 14 - 21, 2021 – , 2021 at the London Edition's Frieze Week Presentation.
"Their project primarily involves the generation and indexing of a torrent of content with a nexus peculiar to the duo's mutual lived experience. The resulting multimedia image-objects become precarious and reactive containers of this swarm-like index, with each sign forming covalent bonds with those around it. Formerly known as DUOX, the artists have been working together since 2009 across diverse media, curatorial platforms, and institutional contexts, creating a body of work at once context-specific and broadly engaged with networked virtualities."*
Select solo presentations include Maison Margiella Flagship Store, New York, NY (2021); the London Edition for Frieze Week, London, UK (2021); von ammon co, Washington, DC (2020); Cultural DC Mobile Arts, Washington, DC (2019); Gillespie Gallery of Art, George Mason University, Fairfax, VA (2019); Reginald F. Lewis Museum, Baltimore, MD (2018); Neighborhood Lights, Light City, Baltimore (2017); Terrault Contemporary, Baltimore (2016); Brown University, Providence, RI (2015); The Sondheim Prize Finalist Exhibition, Baltimore (2015); Dem Passwords, Los Angeles (2015); Artists Space booth, Frieze NY 2014; New Museum's First Look series; Artists Space, New York (2012).
Wickerham & Lomax
Armed & Accessorized, 2021
UV print on mirror
93 x 46 x 3 inches
236.2 x 116.8 x 7.6 cm.
*Text from press release at their 2020 solo show 'Domestic QT & The Spatial Anomalies'