SHARONA FRANKLIN
Bouquet Solutions @ Art Basel 2023

13 - 18 June 2023



a bottlecap basket;
an inky coprine;
a cytoplasmic regeneration;
a new leaf;
all tenuous support;
and the crip clock;
and visions of joy;
because extant;
in rx vortex;
because herbicidal corps.
all hail stamen.

For Art Basel 2023, Kendra Jayne Patrick presents intricate, eloquent new works from Sharona Franklin's most current phase of ideas around dis/ability, the body politic, capitalism,and care. Works in this presentationstem from a continuing phase of her worklifting viewers onto the wavelengthof spacetime on which disabled peopleoperate, activated by the combination ofhealing rituals, pharmaceutical regimes,and vulnerability.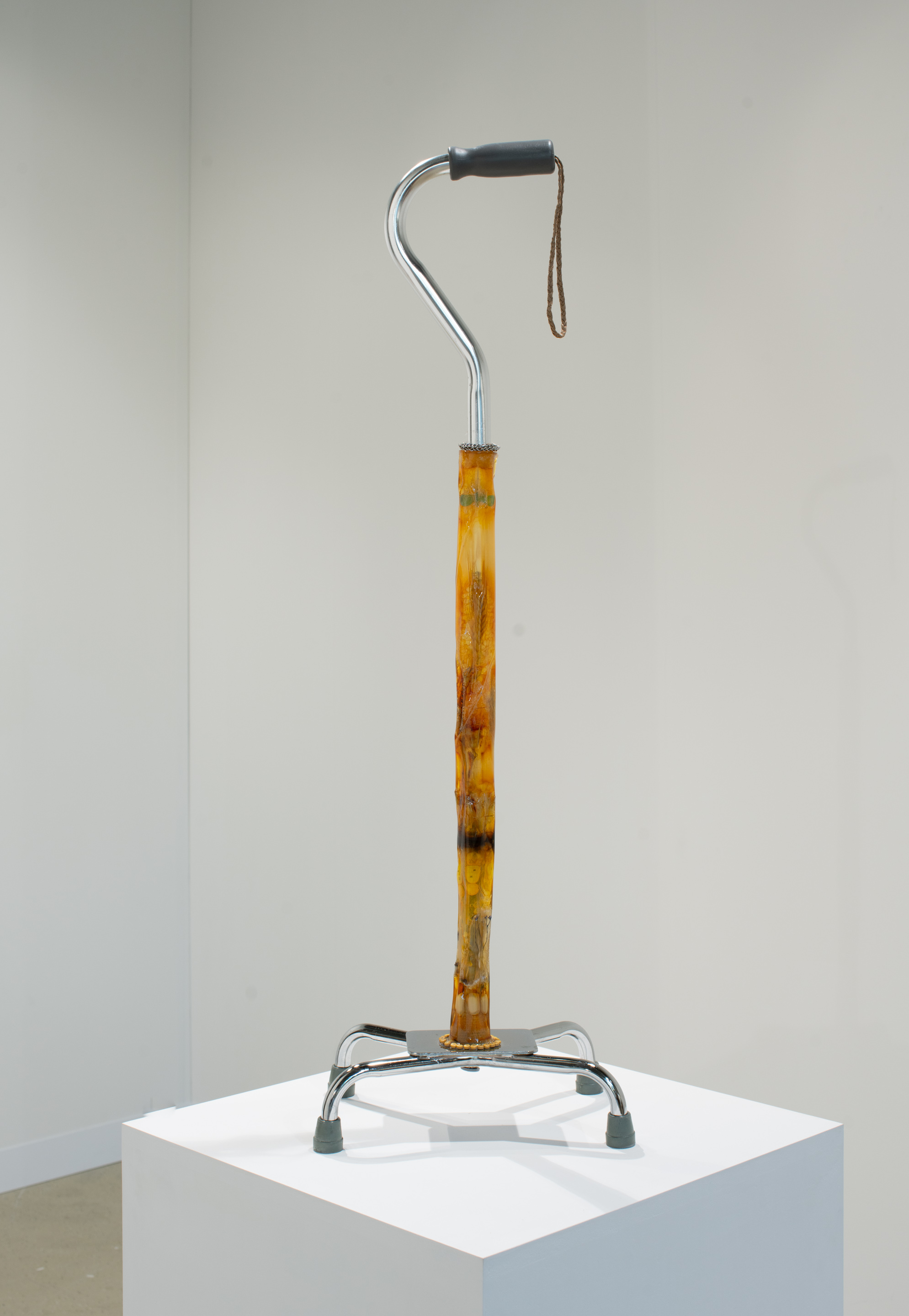 Tenuous Support (2021)
Gelatin, Wool, Metal, Rubber, Epoxy, Expired Pharmaceuticals, Tapioca, Mixed Botanicals, Camomile, Beach Glass, Pansies, Gelatin Capsules, Interleukin Inhibitor Antibody Syringe, IV-port Tubing, Plastic

393⁄8 x 113⁄4 x 77⁄8 in || 100.00 x 30.00 x 20.00 cm




Visions of Joy (2023)
Gelatin, Resin, Wool, Steel, Acrylic Foil, Paper, Fabric, Plastic
153⁄4 x 113⁄4 in || 40.00 x 30.00 cm





Cytoplasmic Regeneration (2023)
Gelatin, Resin, Steel, Acrylic Foil, Paper, Plants, Poppy Seeds
153⁄4 x 113⁄4 in || 40.00 x 30.00 cm


Hail Stamen (2022)

Gelatin, Metal Chains, Mixed Paper Media, Plastic, Syringe, Expiredpharmaceuticals, Juniper Berries, Foraged Natural Herbs, Kidneybeans, Catheter Tubing, Matches, Ponderosa Pine Needles, Yarrow, Chrysanthemum, Daisy, Black Eyed Susan, Pearl Tapioca, Fungus, Lavender, Oat Straw & Poppy :
Courtesy of Vancouver Island Compassion Society, Plywood, Newsprint Papier Mache, Acrylic Paint

19 x 18 x 18 in || 48.26 x 45.72 x 45.72 cm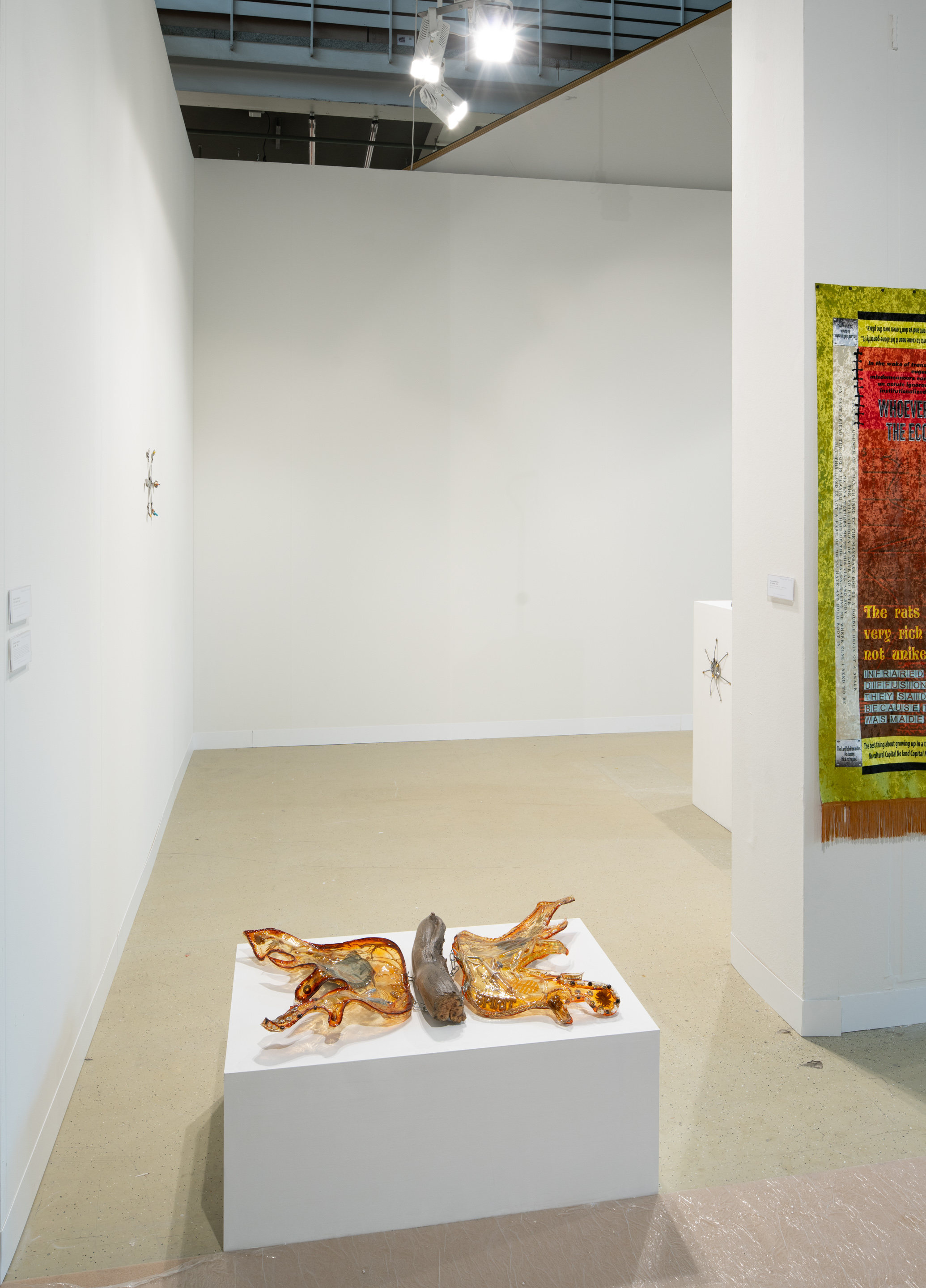 Extant (2023)
Gelatin, Metal Chains, Cotton, Denim, Yarn, Glass Syringe, Medical Intravenous 'Buttterfly' Tubing, Expired Pharmaceuticals, Helichrysum, Yarrow, Juniper Berries, Ponderosa Pine Needles, Pearltapioca, Black Eyed Susans, Poppies, Matches, Violets, Rabbitsbrush, Calendula Petals, Marijuana Leaves, Polyester Fabric, Glass, Foraged Animal Bone Remnants, Foraged Natural Herbs, Sulphurpellets, Lavender, Oat Straw & Passionflower: Courtesy of Vancouver Island Compassion Society, Plywood, Newsprint Papier Mâché
19 x 36 in || 48.26 x 91.44 cm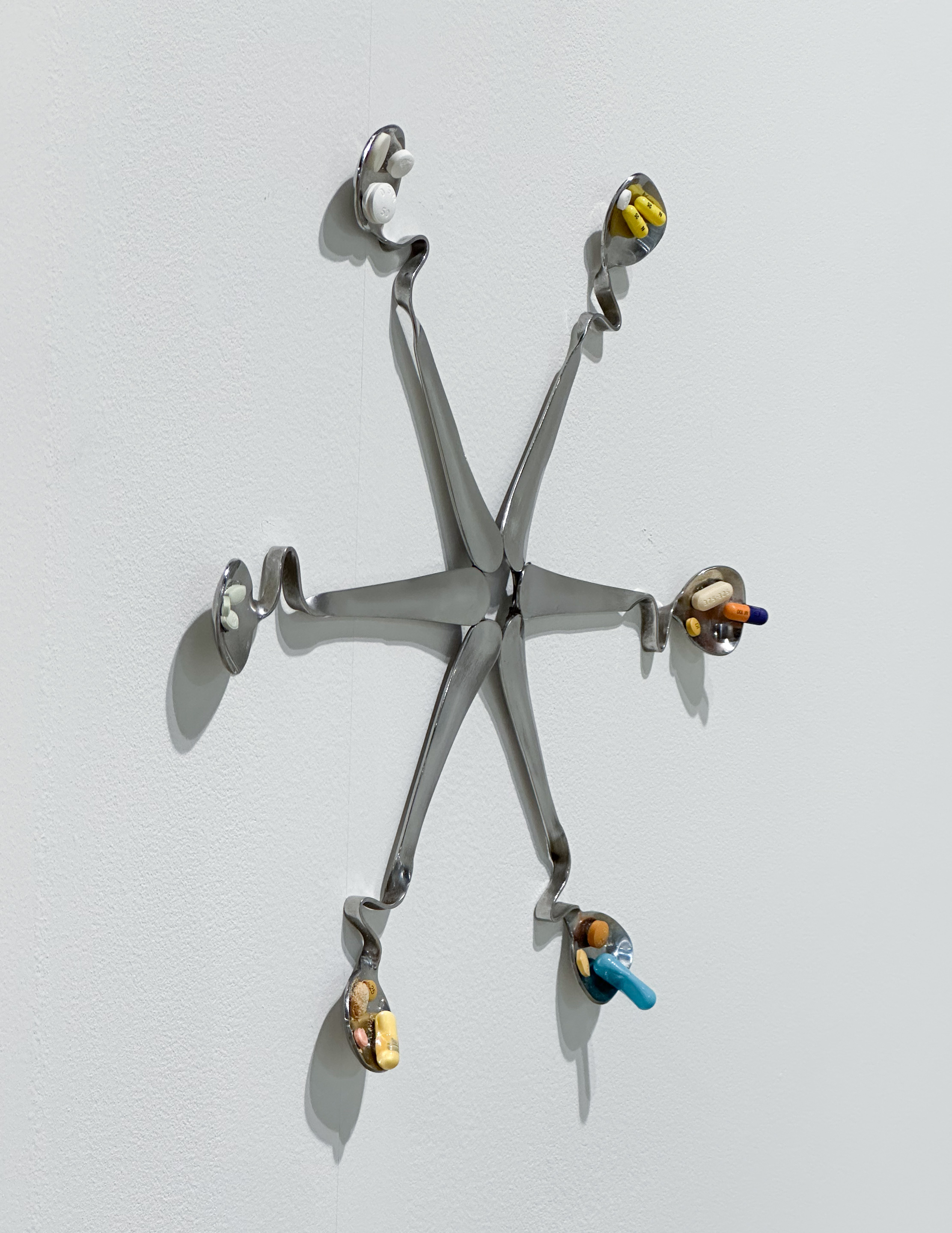 Crip Clock (2021)
Spoons, Metal Alloy, & Expired Pharmaceuticals
111⁄2 x 111⁄2 in || 29.21 x 29.21 cm


Compassion Crip Clock (2021)
Spoons, Metal Alloy, & Expired Pharmaceuticals
111⁄2 x 111⁄2 in || 29.21 x 29.21 cm